Members are strongly suggested to attend these events.
Especially brown & black belts need to show good leadership.
Dates subject to change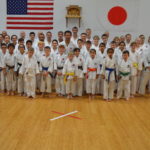 The beginning of year training
The first weekend of January.
Start with capital, like a sentence.
Kangeiko
The 4th week of January.
Cold spiritual training for a 6days.
JKA/WF America Camp
The 2nd week of June. Sometimes in US
The end of year training
The 3rd weekend of December.
End with period, like a sentence.
Dojo fundraising events
To raise funds for helping special events for members.