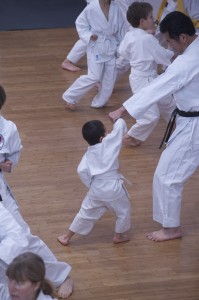 The foundation of our dojo is based on traditional Japanese philosophies.  In Japan, the study of martial art is looked at as training for living life.  The tenets of Dojo Kun are expected to be honored outside of the training hall.  Physical, mental and spiritual aspects are all equally vital parts of the student and his training.  Not only is the student required to work on improving techniques and developing new skills in the dojo, he is also expected to set high goals in other areas of life.
Our Albuquerque, NM Karate dojo stresses the value of "Educational karate" academic pursuits.  Striving for improvement in school is part of our Albuquerque martial arts doctrine.  We want to help nurture the development of your child's self-discipline and ambition through martial arts Albuquerque, NM.
As part of the martial arts Albuquerque process, students are encouraged to share report cards with Sensei.  This is on a voluntary basis and entirely the student's responsibility.  Sensei will (privately) look at the entire report, including attendance, tardiness, schoolwork, homework, tests, and behavior.  While good grades are desirable, focus will be on effort and improvements.
In recognition of the students that improve in both Albuquerque Karate as well as academics, Sensei will inscribe their belts with their names in Japanese characters.  For special achievement, he may also inscribe the student's gi.
This gesture is meant to express our whole-hearted effort to develop Karate Albuquerque students that are high-achievers in every arena of life.
Under the instruction of Sensei Yasuaki Nagatomo, Japan Karate Association has been in operation since 1986.  Sensei Nagatomo teaches traditional Shotokan Karate.
Sensei Nagatomo teaches an Educational Karate emphasizing on three major points:
How to see, What to see, When to see.
Preview, View and Review
Motivation, Demonstration, Explanation, Imitation and Repetition.
Shotokan is a true Japanese style of martial arts, emphasizing discipline and self-confidence in every student.  This form of Karate focuses on self-defense and avoidance of dangerous situations.  Physical training is enhanced with the benefits of spiritual growth and personal achievement.
Japan Karate Association offers over twenty classes a week for people of all ages and all types of conditioning.  Students learn self-defense techniques and build their self-confidence while getting great exercise through Karate. Albuquerque families benefit in many ways from this instruction.
An added bonus is that parents are allowed to participate in their child's class, making Karate a wonderful family activity.